Token Economy Set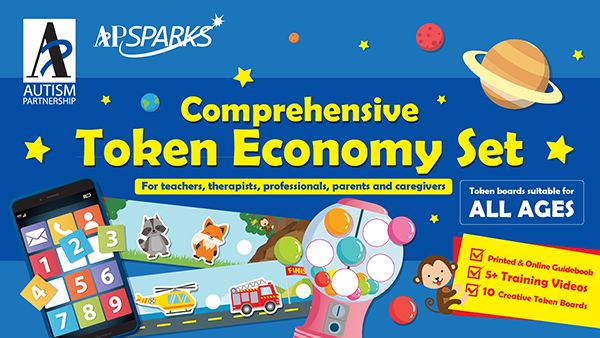 Including 10 token board designs and a guidebook with 5 teaching videos, this Token Economy Set is an extremely effective contingency management system and is designed to help children to:
Increase desirable behavior and decrease undesirable behavior
Learn to self-monitor
Visualize the progress of a task
Accept and work for delayed reinforcement
Details:
Language:
English/Chinese
Format:
Tool + Online Guideline
Price:
Original price: HKD450
Online price: HK300
Shipping cost:

1 set
Token Economy Set

1 Token set + 1 Group Chart Set (Simplified Chinese) + 1 Comprehension Training Set

Hong Kong

HKD 30
HKD 80

Mainland China

HKD 90
HKD 260

International

HKD 100
HKD 300
For Wholesale enquiries, please contact us at workshops@autismpartnershiphk.com
AP will ship your order within 7 business days. If your package is to China or overseas countries, delivery could take up to 21 business days.
*All Hong Kong local shipments are processed by SF-Express. Please note that surcharge is applied to shipments delivered to residential and remote areas in Hong Kong. Surcharges shall be paid by buyer upon receiving the goods.
Order Now:
Hong Kong Shipping China Shipping International Shipping
Supported payment methods include Visa, MasterCard, Alipay, and WechatPay

Payment Method:
All publications (printed books and CD ROMs) sold by AP are non-refundable.
We use the Secure Sockets Layer (SSL) protocol, which helps to ensure that sensitive information sent over the Internet between your browser and our server remains confidential.
This online merchant is located in Hong Kong.
---
- Refund, Return & Delivery Policy
- Consumer Data Privacy Policy